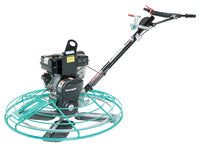 Multiquip Whiteman 46" Power Trowel, 8.5hp Honda GX270, 4 Blade - B46H90
Multiquip Whiteman 46" Power Trowel Machine, 8.5hp Honda GX270, 4-Blade - B46H90
Note: This product is backordered until further notice.
Top-of-the-line trowel machine. Almost 4 ft blade rotor radius with a strong and reliable Honda GX270 engine. The best trowel machine for conctractors for years to come.
Blade Diameter - 46"
Blade Speed - 60-130 rpm
1-year warranty
Front access panel, quick access to trowel arms and blades
Center mount lifting hook
Optimally balanced for smooth finishing
Gearbox features top quality components & large oil capacity for years of trouble-free performance
Handles available with either QuickPitch or Standard (knob type) pitch control
Note: This product has to ship via freight due to size. $250 freight charge. Helpful to ship to business address.
---
We Also Recommend
---