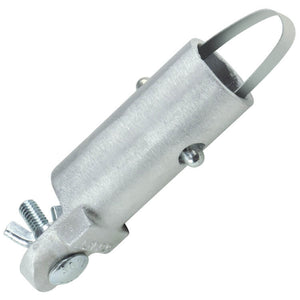 Kraft CC295 - EZY-Tilt® Fresno/Broom Adapter for Button Handles
Fresno/Broom Adapter for Snap Handles -- Clevis to Button Adapter
Expand the use of your tools with this adapter. Adapts clevis style tools such as fresnos, brooms, walking edgers, and walking groovers to snap style handles.
Strong cast aluminum construction
Connects button/snap handles to clevis brackets
Fits both 1-3/8" and 1-3/4" diameter button handles
Use for floats, fresnos, brooms, groovers and other clevis brackets
Comes with adapter, bolt, wingnut, and double button clip
Caution
: Metal extension handles should not be used near electrical wiring.
---
We Also Recommend
---