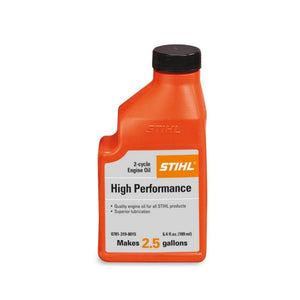 Stihl High Performance 2-Cycle Oil Mix for 2.5 Gallon, 6-pack - 0781-319-8012
Note: Stihl products are for In-Store Pick Up Only
STIHL High Performance 2-Cycle Oil Mix for 2.5 Gallon, 6-pack - 0781-319-8012
Get the most out of your STIHL product by putting STIHL back in. The High Performance 2-Cycle Engine Oil is a special blend that is specifically designed to meet the needs of today's high performance 2-stroke engines. If you're a professional who depends on power tools and chainsaws daily, depend on STIHL to keeps things running smoothly.
Sold per 6-pack
6.4 oz. bottle makes 2.5 gallon mix
STIHL recommends a mix of 50:1 with high-quality 89 octane or higher unleaded gasoline
This STIHL High Performance oil is a quality 2-cycle engine oil developed for all STIHL products and especially suitable for professional chainsaws.
Unopened container shelf life: 4 years from the date of filling, in originally sealed containers.
---
We Also Recommend
---