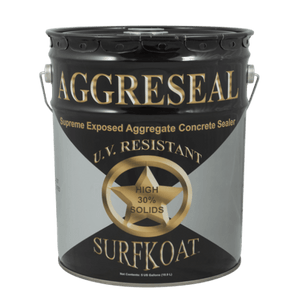 SurfKoat Aggreseal Supreme Concrete Sealer, 30% Solids, 5 gallons (Clear, Brown, or Gray)
SurfKoat Aggreseal Supreme Concrete Sealer - Clear, Brown, or Gray
Aggreseal Supreme is a high gloss, UV resistant solvent based acrylic exposed aggregate sealer available in clear, as well as brown and gray tinted. Aggreseal Supreme offers improved resistance to rain, the sun, freezing temperatures, stains, and other pollutants that sometimes can be hazardous to concrete. Aggreseal Supreme provides superior adhesion to properly prepared concrete, and will also help to eliminate loose pebbles and premature wear.
Brown is intended for use on exposed pea gravel aggregate concrete. Gray tinted Aggreseal Supreme is intended for exposed limestone chip aggregate concrete only. Clear can apply for either/or depending on desired look.
Effective applications: Driveways, Patios, & Sidewalks
Provides superior sheen and ultimate resistance to the sun's UV rays
Can be used as a means of dust-proofing most concrete surfaces
High solids, durable and weather resistant
UV resistant and high gloss finish make it an industry favorite
Coverage

First coat: 100-150 sq. ft. per gallon
Second Coat (optional): 200-300 sq. ft. per gallon
Coverage rates may vary depending on many variables*

Solids/Active Content: 30% (+/- 1%)
Dry Time

Tack Free: 1-2 hours
Foot Traffic: 4-6 hours
Heavy Traffic: 24-48 hours

Re-Coat Time Window: 4-24 hours
Application Temperature: 50°F - 80°F
Note: In-Store Pick Up Only. This item can not be shipped due to hazardous material.
---
We Also Recommend
---